Join us in the adventure of learning. Learning to take care of ourselves and our animal friends. Learn how to understand and use healing energy. Join with other like-minded people in your community to expand your understanding of health and well being for all.
Cancelled: Zero Balancing II
October 18, 2018 @ 8:30 am

-

October 21, 2018 @ 5:30 pm
Zero Balancing II
With Lisa Berger & Amanda King, ZB Faculty
Date:

 10/18/2018 – 10/21/2018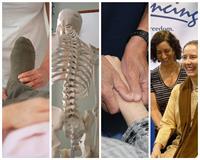 Dates: October 18-21 2018
(Thurs-Sat) 9:30-5:30pm
(Sun) 9:30-4:00pm
25 CEUs for LMTs, LAcs, (NCBTMB & NCCAOM approved)
$595 • 60+ days in advance
$695 • 30+ days in advance
$795 • within 30 days
$350 • repeating price
ZB can offer:
• Profound release of emotional stress and physical tension
• Improved joint function, ease, and range of motion
• Freedom from the imprints of injuries and trauma
• Increased flow of energy and vitality
• Deep calm, creativity, and expanded awareness
Zero Balancing II is the second half of the 50-hour Core Zero Balancing Program
In ZB II you will review and deepen your exploration and skills of ZB principles, touch and protocol, PLUS, you will learn:
• New places on the skeleton to evaluate and treat for bone gold
• New fulcrums for the pelvis, ribs, hips, feet, neck and head
• The full Core ZB protocol to address the body in 45 minutes or less
• The principles and methods behind moving fulcrums
• How to amp up your sessions and deepen client connections, starting with intake and framing
• How to recognize and cultivate expanded consciousness in your client – where more change can happen
Or register by mailing a check for $595 before August 19, 2018 to:
Amanda King, ZB Instructor
Clear Body Mind Wellness Center
254 Essex Street, Suite 203
Salem, MA 01970
Questions: amandamtzb@gmail.com or call 617/461-7516
What Clients Say About Zero Balancing:
"Very relaxing! I wasn't familiar with Zero Balancing. I just heard it was great for relieving stress. When you finish you feel like you've been 'put back together' like your body was meant to be." F.L.
"I love how a zero balancing session makes all my aches go away – headache, backache, heartache." – from Twitter
"What a wonderful way to recalibrate my whole body." L. W.
"I had my first Zero Balancing experience yesterday and I am happy and hopeful for the first time in quite a while. Thank you!" M.D. from Facebook
"Thank you Zero Balancing, for helping me find a way to manage and cope with my chronic illness and pain….I am never giving up and am trying to spread the word….." M.G.B. from Facebook
"I was sure I was going to get arthritis in my hip because it often bothered me. It hasn't hurt at all since I've been coming for ZB." A. L.
About Lisa Berger, LAc, CZB
Lisa fell in love with Zero Balancing shortly after beginning acupuncture training in 2002. Learning through ZB to feel energy grounds Lisa's work, hones her senses, and makes her a precise and effective clinician. Lisa has private practice in South Deerfield, MA, and twice a month she holds a clinic offering two ZB sessions per appointment on adjacent tables in a large space. Lisa began teaching Zero Balancing in 2004 and has served on the ZBHA Board since 2006. Clear, kind, and creative, Lisa loves to teach Zero Balancing. Lisa's websites: www.deerfieldhealingarts.com and www.inbodyarts.com.
About Amanda King, LMT, CZB
Amanda discovered ZB in 2002 and credits this work with leaps forward in personal healing and growth. She also loves how ZB feels to practice and receive. Amanda was certified in ZB in 2006 and joined the ZBHA faculty in 2012. She served on the ZBHA volunteer Board from 2009 to 2016. She has a private practice in Salem, MA where she specializes in massage therapy and Zero Balancing treatments to help people find relief from chronic pain, injury, and trauma. Amanda's website is www.clearbodymind.massagetherapy.com